Ceremony Honors Center which prepares various future teachers for the workforce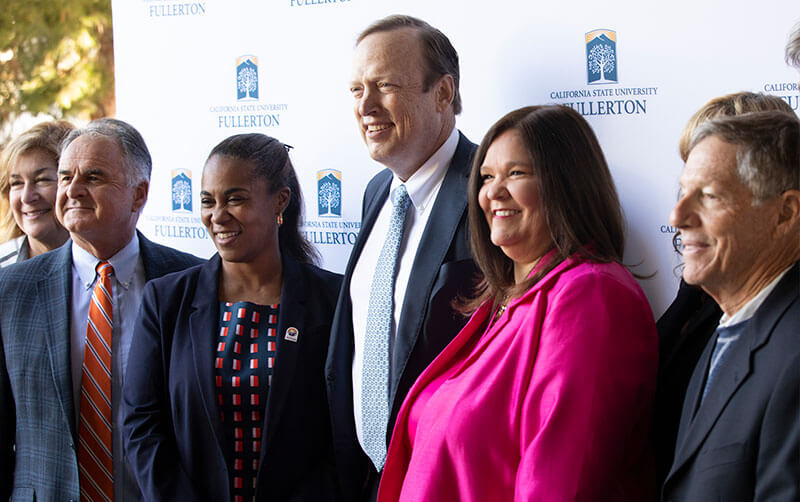 Odalys Garcia knew in high school that she wanted to become a middle school teacher for developing English language students. As a former ELD student, Garcia understands the challenges they are likely to face. After being inspired by her own teacher, she ultimately hopes to help ELD students navigate the K-12 education system.
"As a teacher, I want to be able to focus on the ELD middle school kids and prepare them for high school," Garcia said. "I want to inspire them to push themselves, no matter where you are from, no matter if you speak Spanish first or other languages, that you can always achieve whatever you want with your education."
The Cal State Fullerton freshman with a liberal studies major participates in Titan Future Teachers, a program where students can meet other peers interested in teaching, access resources, and learn the skills they will need to enter a teaching accreditation program. It is one of the programs hosted by the SchoolsFirst Federal Credit Union Center for Careers in Teaching.
On October 26, a groundbreaking ceremony celebrated the name change of the College of Education flagship center to honor the $ 800,000 donation from SchoolsFirst Federal Credit Union. The donation will support the centre's outreach, counseling and teacher preparation programs, such as Titan Future Teachers and Men of Color in Education.
The center also includes the SchoolsFirst Federal Credit Union Center for Creativity and Critical Thinking, which provides teachers with continuing education and educational experiences focusing on the arts, science and technology for students in preschool through grade 12.
Director Aimee Nelson said the center, the first of its kind to be launched in the California State University system in 1998, hires thousands of future and current teachers every year. It aims to remove barriers for diverse educators and provide the support they need to be successful.
Speakers at the ceremony included Fram Virjee, President of CSUF, Bill Cheney, President and CEO of SchoolsFirst Federal Credit Union, and Lisa Kirtman, Dean of the College of Education.
"The impact our students and future teachers will have on classrooms will be felt for generations," said Virjee. "Over the past two decades, our Teaching Career Center has played a central role in developing best practices and supporting future teachers through its programs.
Hongxia Mo, a psychology student, left China for the United States at the age of 20. Hoping to pursue a career as a college teacher, Mo says the community she has gained from participating in Titan Future Teachers has been very supportive.
"You can meet other people who have had similar experiences," Mo said. "(Program coordinator Jacqueline Calabrese) supports us when we feel like we are not ready. She helps us get there step by step.
Titan Future Teachers, which launched in 2018, is now expanding into its fourth year.
"We have over 700 undergraduate students as members now," said Calabrese, the centre's graduation specialist. "It really helps bring the students together. Even if one student wants to teach in kindergarten and another student wants to teach arithmetic in high school, they can still find common ground in wanting to support students.