Saudi Pavilion at Expo 2020 Dubai Celebrates "The Year of Saudi Coffee 2022"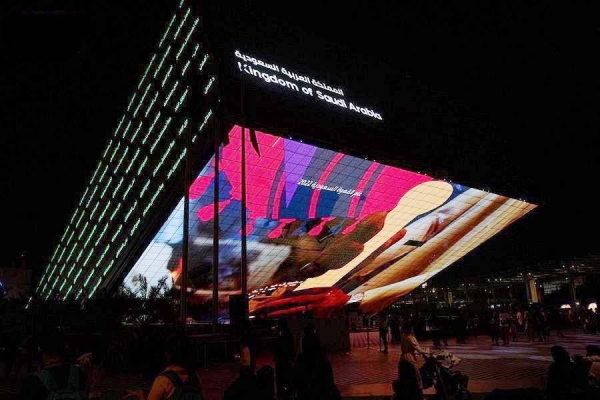 DUBAI- On the occasion of the designation of 2022 as the "Year of Saudi Coffee", the pavilion of Saudi Arabia participating in Expo 2020 Dubai highlighted, through a short film which was broadcast on its large digital screen, the importance of the initiative launched by Saudi Arabia's Ministry of Culture.
The ministry, through its initiative, celebrates Saudi coffee as one of the main elements of Saudi culture and folklore, which is linked to the identity and culture of the Kingdom and a symbol of hospitality for all segments of his society.
The short film caught the attention of visitors to the pavilion, as it presented in its scenes a particular vision of the importance and status of coffee in Saudi society, with its different types, flavors and tastes, as these types represent several regions of the Kingdom. .
In addition, the Saudi pavilion at the Expo 2020 Dubai International Exhibition allows its visitors to taste the different types of coffee served in the regions of the Kingdom, by adopting the "Sard" restaurant, which offers visitors to the pavilion a wide variety. of Saudi coffee.
Saudi coffee has transcended the boundaries of the concept of popular drink, to become a special and important symbol, carrying deep connotations of generosity, hospitality and cultural diversity in the Kingdom.
Saudi Arabia is one of the most coffee-consuming countries in the world and is currently striving to achieve self-sufficiency in Saudi "Khawlani" coffee beans and increase its economic output, with the aim of contributing to increase non-oil GDP.
The "Year of Saudi Coffee 2022" initiative, which was celebrated by the Kingdom's pavilion, aims to highlight the cultural diversity of Saudi society and its distinguished hospitality.
This is in addition to showcasing Saudi Khawlani coffee as an authentic Saudi product and the tools, ingredients and methods of preparing Saudi coffee, which the industry in recent years has provided a gateway for many entrepreneurs to start. to create special projects based on coffee and its ingredients. — SPA