Vancouver disabled man alleges assault involving five cops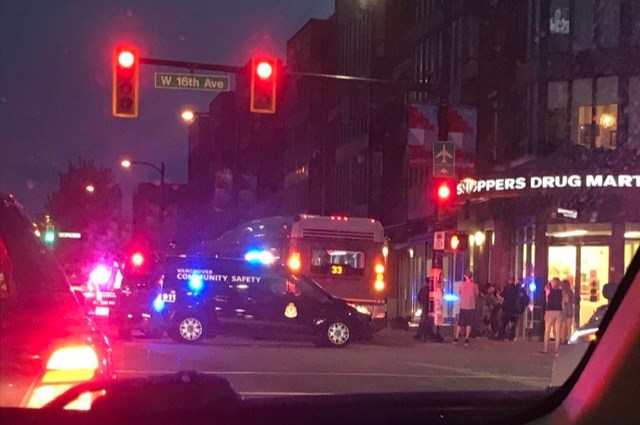 Disabled Vancouver man challenges Vancouver Police Department's version of his June arrest
A disabled Vancouver man alleges that five Vancouver Police Department (VPD) officers severely beat him, leaving him bloody.
In a notice of civil suit filed in the British Columbia Supreme Court on November 12, Jardine Daniel de Villiers said police beat him, stuck his face against the sidewalk, kicked him and tried to monopolize it on the night of June 2, 2021.
He alleges he suffered a fractured skull and orbit, broken nose, facial lacerations that required stitches, broken ribs and torn ligaments in his right knee, among other injuries as a result of the incident.
The claim said the incident began while de Villiers was seated at a bus bench at 3277 rue Cambie. Police pulled over as they pulled an SUV to a stop at the bus stop, court documents show.
De Villiers said he asked officers to move the vehicle from the bus stop area, explaining he had mobility issues.
The officers are identified only as John Does 1 through 5 and Jane Doe 1 in the notice of civil suit.
De Villiers said John Doe 1 and Jane Doe 1 began to interrogate him aggressively and threatened to arrest him for uttering threats, obstructing justice and carrying a concealed weapon (a cutter visible in his bag).
"After several minutes of increasing verbal interaction, John Doe 1 asks the complainant, how about a fight?" says the claim.
John Doe 1 then caught de Villiers in the throat, according to claim, and hit him four times – three in the head. John Doe 1 then allegedly rolled de Villiers onto the sidewalk and handcuffed him, rubbing his face against the sidewalk and putting weight on his back. Then, according to de Villiers, Jane Doe 1 began removing his legs (in which he suffers from chronic pain and poor mobility) for the hogtie.
None of the police intervened "to stop the beating or take action to investigate the incident," the statement said.
The claim noted that an officer told passers-by that a beating always looks worse than it actually is.
De Villiers alleges that officers later took selfies of him in the rice wagon and that he was later charged with assaulting a police officer. De Villiers says he did not resist arrest or assault an officer.
"The Complainant tried to protect his disabled hip and knee; protect his face from being crushed in the sidewalk; protect his body from blows and protect his face from punches, "says the claim.
A police version of what happened that night is somewhat different.
In a statement to Vancouver is awesome on June 3, police said two VPD officers were approached by the man, who was sitting at the nearby bus stop. The man began to behave erratically and aggressively towards the police officers, uttering threats, uttering racist and homophobic slurs, and then pouncing on one of the police officers.
"He then bit one of the officers, started rocking and attempting to hit them, and resisted violently as the officers attempted to handcuff him," wrote the VPD sergeant. Steve Addison in an email to GOING THROUGH at the time. "After a long struggle, the police finally took control of the suspect."
The BC court registry shows no criminal records for de Villiers, including police assault charges.
The VPD has yet to respond to Glacier Media's request for comment.
jhainsworth@glaciermedia.ca